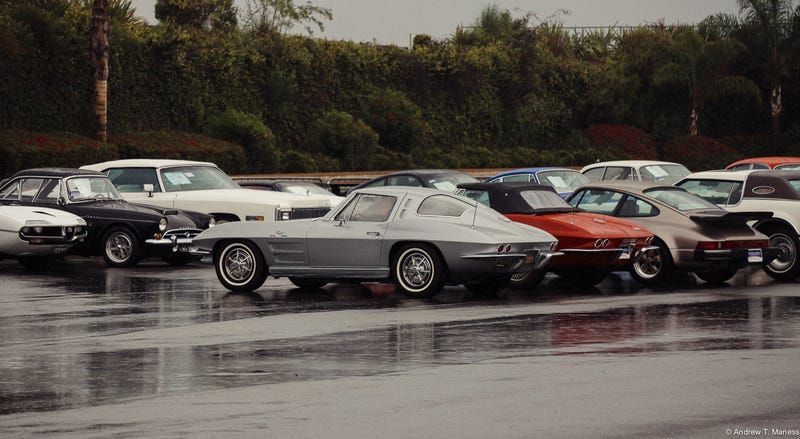 Southern California finally got some rain this past weekend and while it limited the amount of time I was able to spend outside photographing cars, I have to say I was pleasantly surprised with what I was able to get. It was one of those times when I really wish I had a good friend to hold an umbrella over me, or at least over my camera. The variety of vehicles at Barker Hangar was simply overwhelming and that's coming from someone who regularly attends Super Car Sunday. Everything from a 1917 Pierce Arrow 48B, to a '04 Enzo, to a '54 Kaiser Manhattan Supercharged Sedan. There was even a Saturn Sky "Mallet" Convertible.
While I know for sure that I missed a number of vehicles, there were just too many to shoot in the amount of time I had, I'm really pleased with the shots I did get. Next time this show comes around I'll have to be more on the ball and make it out for more than just one afternoon. I'm not even sure that 3 days would be enough time to shoot everything on hand, but I'd sure like to try. For more on my experience and a bunch more HQ photos, head over to The AutoTempest Blog.
Eventually what was light rain turned to a full on downpour and I headed inside to protect my camera. I watched a Ferrari Enzo sell for nearly $1.75 million and an '84 911 Carrera for $42,500. Oddly enough I think the buyer of the Porsche got the lesser bargain.

Hope you enjoy these i-Phone photos as well and tell me, if you were going to snag one of these cars at auction, and money was no object, which one would you go for? If it was me, I'd fork over my dough for that Galaxie 500 R-Code or '57 Country Squire Wagon. Why do I have such a thing for old Fords lately?
email: theroadlessdriven@gmail.com insta: @theroadlessdriven