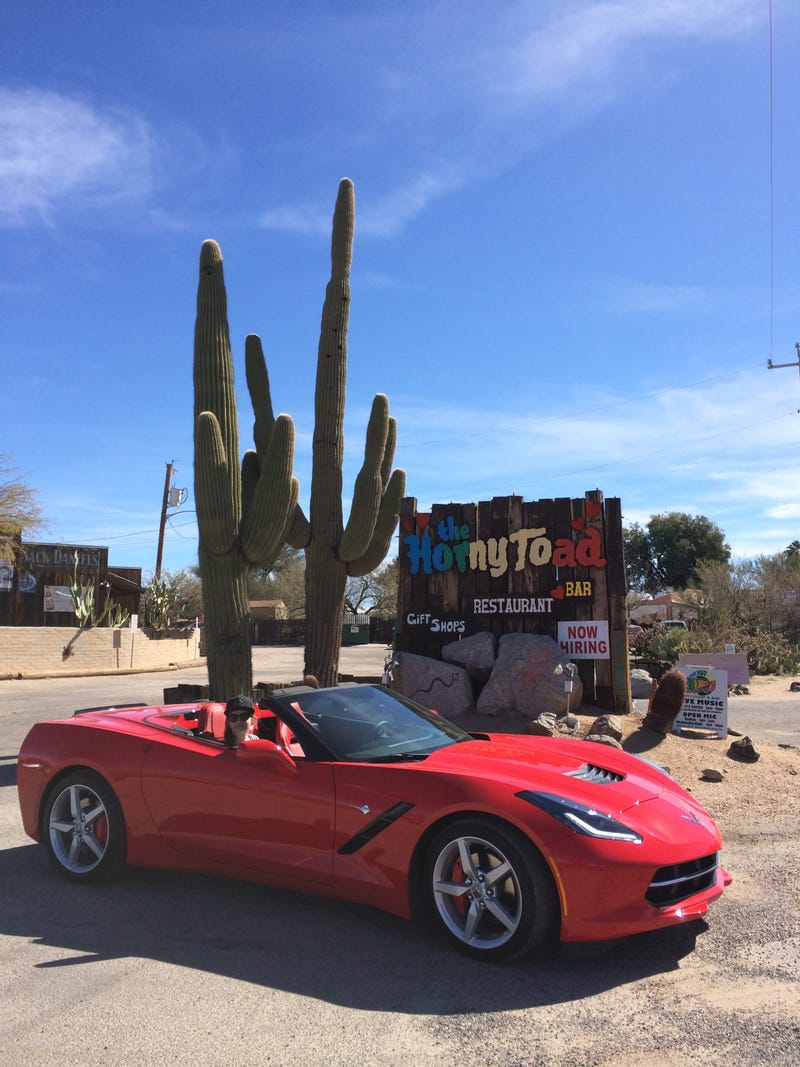 The Horny Toad in Cave Creek,AZ is home to the best BBQ sauce in the world and it's only a short 7.5 hour drive from Los Angeles. Their sauce isn't sold online and they don't ship it, so unless you know someone who lives there who's willing to go and get it for you, there's only one way to get it, drive a brand new Corvette Stingray convertible out there. Okay, that's not the only way, you could fly, rent a car, ride a bike, hell you could even walk but taking America's best sports car in decades is certainly going to be the most fun way to get there.
GM was nice enough to loan me the 2014 Corvette Stingray for a few days so that I could fulfill a childhood fantasy. The fact that it was red did not ruin said fantasy though it did make me feel like somewhat of a douche every time I got in it.
It doesn't hurt that the 2014 Stingray is comfortable going 90mph for extended periods of time and getting 29mpg while doing so. Unlike previous generations the new Vette droptop has a useable trunk whether you're motoring al fresco or not which is important if your significant other is along for the ride, which mine was. All her "necessities" fit in the boot with ease and let plenty of room for our cargo.
It was a pleasant discovery that there is in fact a "stash spot" in the trunk of the Vette so the planned extra room wasn't even needed. Our jars of "Toad Sauce", as my family calls them, were easily tucked into said stash spot thus keeping them safe for the ride back to the coast.
Driving for the sake of driving is a uniquely American pastime. Our roads may be shit compared to Europe's but at least we get out and enjoy them as often as we can just for the hell of it. As we headed home on I-10 I couldn't help but wonder how much further I'd be willing to go for something on a whim, if we had Autobahn quality roads and the speed limits (or lack thereof) to match.
We live in an age of brilliant automotive engineering, where a sports car with a 460hp v8 is capable of covering over 320 miles without filling up, can you imagine if our infrastructure and laws were equally as brilliant? I don't mind long drives, in fact I quite enjoy them, especially when my means of transportation is a smile inducing machine built right here in the good 'ol USA.
I hope that between the Vette, the SS and everything Cadillac is doing that people's faith in GM has been restored. Now, if we could only get Lincoln to come in from the woods and build a hybrid Continental convertible we'd have the ultimate road trip car.
Cheers.
Andrew Maness writes about cars because he has one and also has a computer. He's been known to drunkenly Tweet as @thisnicelife and upload photos to@theroadlessdriven. He also has a YouTube Channel and thinks talking about himself in the 3rd person is really weird but knows it's necessary if he wants to be taken seriously as an Oppo contributor.

2014 Corvette Stingray On Spotify.